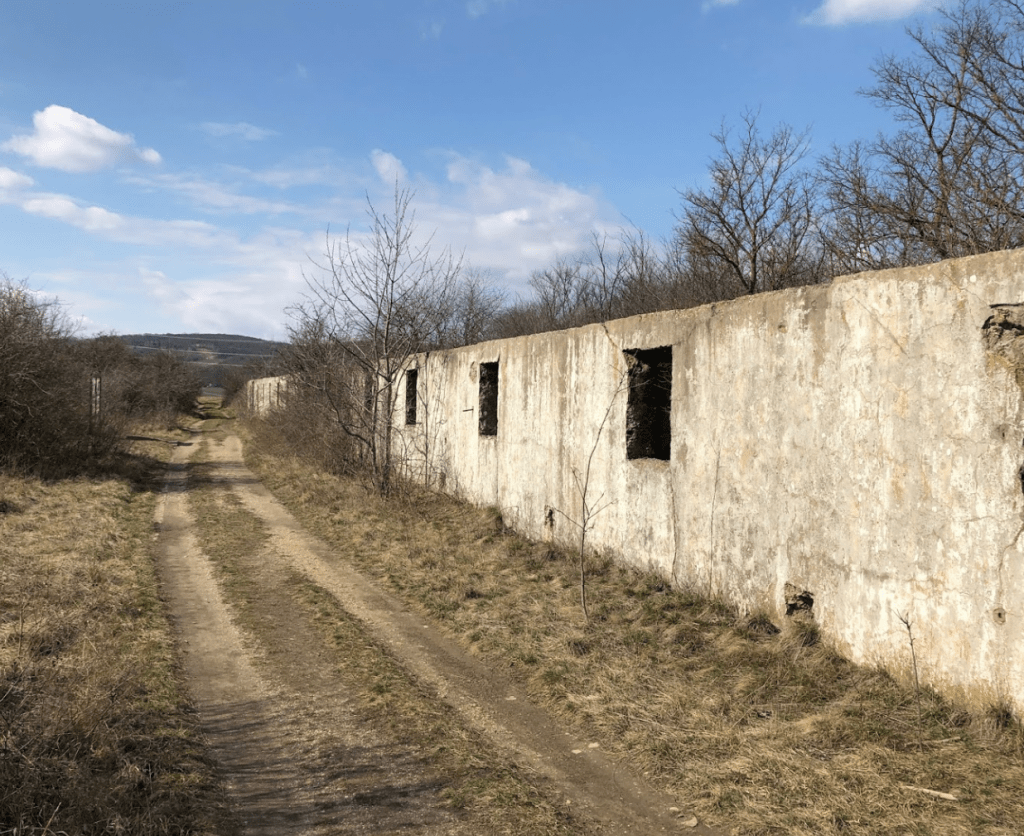 EXPLORE WORLD WAR 2 SITES NEAR VIENNA ALONG A SCENIC HIKING TRAIL
Today, structures remaining from the war period in Austria are generally in a state of controlled decay or have been lost to nature. There are World War 2 sites near Vienna, you just have to know where to look for them.
Near the charming wine town of Hagenbrunn in the Weinviertel (wine region) of Lower Austria are the remains of a Daimler-Benz (DB 600/601) aircraft engine repair facility. Nearby are the remnants of earthen fortifications used during the Battle of Vienna. If you are ready to explore some World War 2 sites near Vienna and also get fresh air and exercise, then you are in the right place. Read on!
TRAVEL GUIDE | WORLD WAR 2 SITES NEAR VIENNA
wikimedia commons
You will be visiting one of our favorite World War 2 sites near Vienna and take a beautiful hike through the countryside with farm fields surrounding you. In the Spring, it is particularly gorgeous with the vibrant yellow rapeseed enveloping you during your walk. There are nice views of the distant Vienna skyline especially on a clear day. This hike is also dog friendly.
HAGENBRUNN WORLD WAR 2 TRAIL (5.2 km/3.2 miles – Easy)
Are you ready to explore some World War 2 sites near Vienna? This easy hike near Vienna starts in the charming wine town of Hagenbrunn, a 15-minute drive from Vienna. The starting point is a gravel road that skirts around the farm fields. In March and April, the fields are a vibrant yellow from the rapeseed flowers.
Following the map we have provided below, a path will take you to the top of a hill where you will be greeted with a panoramic view of the city of Vienna. Farm fields abound and there will be vineyards behind you. Continue down a grass/dirt path accompanied by some more vineyards until you reach another small hill to ascend. At the top of the hill is an even better panoramic view of Vienna. There are also some intriguing features worth exploring.
As you conclude this scenic hike near Vienna, you will walk downhill and enjoy a beautiful view of Hagenbrunn, the hills of the Weinviertel, and the nearby wine cellar lanes of Enzerfeld. You will make your way through a grassy trail and gravel road until reaching your endpoint.
As you make your way through the vineyards, you will encounter what appears to be two fortifications with steep dry moats, earthen berms, and numerous bomb craters. Clearly, something took place here in the past. These earthen fortifications are called the Ski Jumps and were built during the Austro-Prussian War in 1866 as a defense system to secure Vienna against the Prussian troops advancing from the Marchfeld, which is east of the city.
During World War 2, the Ski Jumps were repurposed. Anti-aircraft guns here protected a number of concrete structures hidden in the farm fields. The Nazis directed civilians and prisoners of war to repair and overhaul airplane engines in these tucked away structures.
DIRECTIONS
Click the Green/Red icons below to open the START and END POINTS in Google Maps. You will START/END in the same location.
Google Maps 2020
GENERAL TRAIL RULES
Before we get started, let's go over a couple of ground rules. Hiking is a bit of an art form in Austria and is something the locals are very passionate about. For our American readers, you will notice other hikers holding ski poles and flailing their arms about. Do not be concerned, these are called Nordic walking sticks and are meant to help exercise your upper body.
Be warned, Austrians are rule followers and will dress you down in a New York minute if you are not conforming to the rules of the trail. So, try to follow the signage and stay on the designated trail. If you go off-trail, the perception is that you are destroying nature. Never, ever, ever hike across the farmer's field (again under penalty of death)!
If the trail is congested, stay on your side (to the right). Complete strangers will scold you, especially if your dog is off the leash. At a bare minimum, you'll receive dirty looks and some strange hand gestures. If you do not clean up after your dog, you could face the death penalty! Actually, there is a EUR 50.00 fine. Do not litter ever, under any circumstances. I told you they followed the rules here.
Oh yeah, one last thing. Some of these trails are impossible to find and when I say impossible, I mean impossible. Since we like you, each trail has a hyperlink that will open up the starting point in Google Maps. Now, are you ready to have some fun and enjoy some scenic hikes near Vienna?
GERMAN AIRCRAFT ENGINE REPAIR FACILITY
Today, as you follow the path, you will encounter a 75 meter (250 feet) long concrete building with one-meter (3 feet) thick reinforced concrete walls. The building is one long structure with no interior walls and is surrounded by earthen berms. Believe it or not, this is one of the best preserved World War 2 sites near Vienna. It is in a state of controlled decay but has held up well over time.
What is most striking are the numerous bullet holes marking the exterior. From the large concentration of bullet holes and other structural damage, it is apparent that at the end of the War, the Soviets swept through these buildings and had no mercy. A similar concrete structure once stood directly opposite this building. Today, two steps lead into what was once the doorway. During the Austro-Prussian War, these concrete structures were used to store munitions.
Today, in the middle of this peaceful landscape, this hardened concrete structure is all that remains of the workshop where civilians and prisoners of war repaired Daimler-Benz 600 and 601 (DB 600/601) airplane engines, the liquid-cooled fuel injected inverted V12 engine that powered the Messerschmitt Bf 110 and Heinkel He 111.
MESSERSCHMITT Bf 110
wikimedia commons
HEINKEL HE-111
wikimedia commons
DB 600/601 AIRCRAFT ENGINE
wikimedia commons
At the time, the DB 600/601 airplane engine was cutting edge technology. Because the 601 had fuel injection (replacing the traditional carburetor of the DB 600), the 601 engine was able to produce greater horsepower providing the Messerschmitt bf 110 with a competitive edge.
THE HERRENHOLZ FACILITY
The main factory for the DB 600/601 was located in Herrenholz, just north of the quaint wine town of Stammersdorf, and minutes from the surviving structure above. The Herrenholz factory began operations in 1940 with the goal of repairing BMW radial engines for the Junkers (Ju 52) and Daimler-Benz 12-cylinder V engines for the Me-Jäger. In September 1941, half of the workers were assigned to the Eastern Front. In 1942, French prisoners of war arrived to fill the ranks of the missing workers.
From April 1942 onward, workers repaired only DB 600 and DB 601 engines. From mid-1944 onward, the DB 603 was overhauled here as well. As of August 1944, the facility employed 816 people, including 125 prisoners of war.

Of note, the aircraft engine repair facilities were not damaged by Allied air raids. Production ground to a halt; however, as the supply of spare parts dried up. In the last days of World War 2, the Russian army attacked the Weinviertel region prior to invading Vienna and took over the Herrenholtz facility.
After World War 2, the Russians utilized the Herrenholz facility as an automobile repair shop. In 1947, the Russians dismantled and removed the technical equipment in the facility and blew up the buildings in 1948.
THE SKI JUMP FORTIFICATIONS
Protecting the aircraft repair facilities, in the neighboring vineyards, are the remnants of two large earthen fortifications called "Ski Jumps" dating back to 1866. These structures are located on high ground and have dry moats, earthen berms and trenches. Women, children, the elderly were ordered to construct 31 Ski Jumps in the surrounding Vienna countryside. The Ski Jumps did not see any action during this period as an armistice was signed halting the Prussian invasion.
During World War 1, the Ski Jumps were repurposed and were used to prevent Vienna from a Russian attack. The Russians were stopped in the Carpathian mountains and again, the Ski Jumps were spared.
Everything would change during World War 2. The front lines were located in the Weinviertel and fierce fighting took place along the Ski Jumps between German and Russian troops.
During World War 2, these sites housed German anti-aircraft guns. From these positions high above on the nearby hilltops, guns and artillery protected Vienna and the aircraft repair facilities. The Germans used these positions to repel the approaching Soviet army and also to deter Allied bombers flying overhead. Today, these earthen sites are marked by countless craters created by Allied bombs.
By the way, the Weinviertel is the wine region to the north and east of Vienna. It is east of the Danube River and is largely defined by its vineyards, rolling hills, and sweeping views. It also has some of the best hikes and walking trails near Vienna.
NEAR THIS PLACE
TRAVEL GUIDE | VIENNA FLAK TOWERS. The Vienna Flak Towers (Flakturm) and Bunker complex in the Augarten Park serve as a stark reminder of WW2.
SEEGROTTE HINTERBRUHL MINE. The Seegrotte Hinterbruhl Mine is a family friendly attraction that was once used by the Nazis to build the world's first fighter jet.
TRAVEL GUIDE | EASY SCENIC HIKES NEAR VIENNA. Explore one of the many dog friendly scenic hikes near Vienna. There are castles, wild life, ancient roads, and fresh air.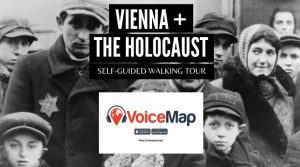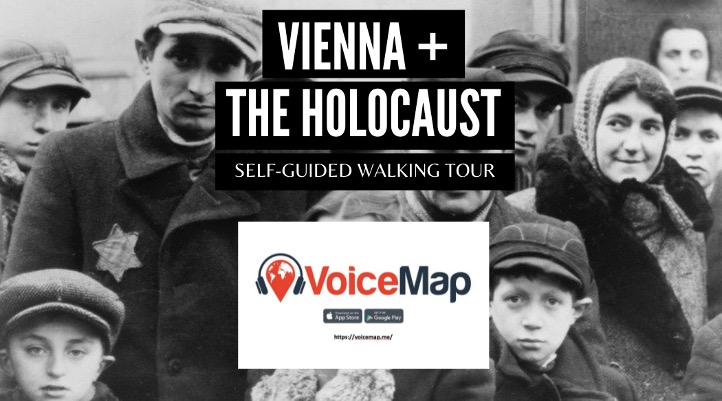 VOICEMAP | VIENNA SELF GUIDED WALKING TOUR. Want to learn how the Mossad operation to bring Nazis like Adolf Eichmann to justice originated in Vienna? Check out our VoiceMap self guided walking tour: VIENNA + THE HOLOCAUST: FROM TRAGEDY TO JUSTICE. You can preview it for FREE. Start point is Nestroyplatz on the U1 red line in the 2nd District.
BEST PLACES TO STAY
SO/ VIENNA. Designed by the famous architect Jean Nouvel, this stylish hotel is near all of the sites. Panoramic views over Vienna, a gourmet restaurant, a gym, and FREE spa facilities. Modern, spacious rooms with air conditioning, FREE mini-bar, and FREE Wifi. ADDRESS: Praterstraße 1, 02. Leopoldstadt, 1020 Vienna, Austria.
RUBY LISSI HOTEL VIENNA. Boutique hotel located in an 18th-century building in Vienna's first district. Luxuriously furnished rooms with air conditioning, wooden floors, use of tablet device and FREE Wifi. Each room has a Marshall amplifier and guitars can be rented. Organic breakfast and 24/7 access to Italian antipasti and snacks, beverages and selected wines. ADDRESS: Fleischmarkt 19 / Laurenzerberg 2, 01. Innere Stadt, 1010 Vienna, Austria.
GRAND FERDINAND VIENNA. Opened in autumn 2015, located on the Ringstraße boulevard in the center of Vienna. Modern spacious rooms with air conditioning. Rooftop pool, 3 restaurants, fitness center, and FREE Wifi. ADDRESS: Schubertring 10-12, 01. Innere Stadt, 1010 Vienna, Austria.
LE MERIDIEN VIENNA. Located on the Ringstraße in the heart of Vienna. Modern, spacious rooms with amenities. Indoor pool, spa facilities, fitness center, FREE mini-bar, and FREE Wifi. ADDRESS: Robert-Stolz-Platz 1, 01. Innere Stadt, 1010 Vienna, Austria.
DO&CO HOTEL VIENNA. Steps away from St. Stephen's Cathedral in the heart of Vienna, this elegant hotel features spacious and stylish rooms with modern furnishings, wooden floors, air conditioning, and FREE Wifi. FREE use of neighborhood fitness center. ADDRESS: Stephansplatz 12, 01. Innere Stadt, 1010 Vienna, Austria.
BOOKSHELF


Disclosure: White House Travel is a participant in the Amazon Services LLC Associates Program and Agoda affiliate programs, designed to provide a means for us to earn fees by linking to Amazon and affiliated sites at no extra cost to you.