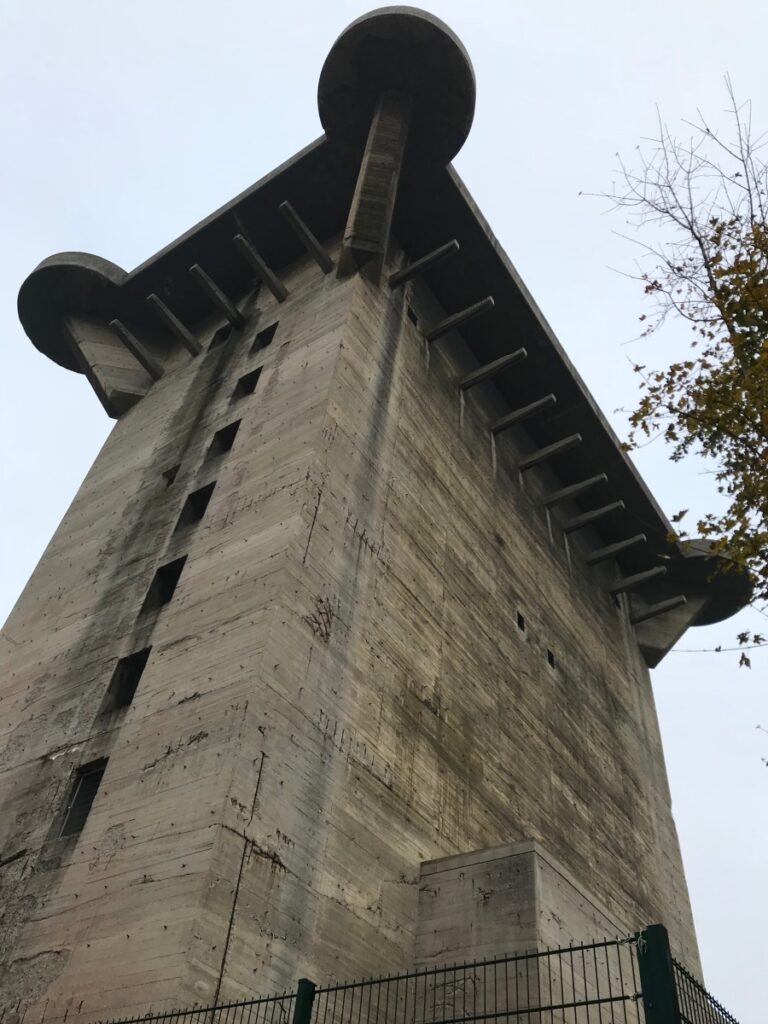 THE VIENNA FLAK TOWERS AND BUNKER COMPLEX IN AUGARTEN PARK ARE STARK REMINDERS OF WW2
Seventy Five years have passed since the end of WW2. However, during an otherwise lovely stroll in Vienna's beautiful Augarten park, there are stark reminders of an incredibly dark past. The Vienna Flak Towers (Flakturm) and nearby Bunker Complex are ominous and completely offset an otherwise picturesque scene. They just seem out of place. Travel through the neighborhoods of Vienna and you will find other Flak Towers. One has been converted into the city's aquarium, the Haus des Meers. Other Flak Towers host cell tower equipment and colonies of pigeons.
Under the direction of Adolf Hitler, the Nazis had slave laborers construct six massive concrete anti-aircraft Flak Towers (Flaktürme) and bunkers in the heart of Vienna to defend the city from Allied bombing. To protect the First District of Vienna, the three pairs of Flak Towers form a triangle around St. Stephen's Cathedral. The Vienna Flak Towers are located in the second, third and sixth districts. In addition to defense, the imposing size and immense firepower of the Vienna Flak Towers was meant to have a psychological impact as well.
Three similar, but more massive Flak Towers were constructed in Berlin and two in Hamburg.
wikimedia commons
Anti-aircraft guns in each tower could fire 8,000 rounds per minute with a range of 8 kilometers in a full 360-degree field of fire. As a result, Allied bombers tended to avoid the airspace overhead. That said, these monstrosities were in fixed positions, so offered no defense to other areas of the city. Having reinforced concrete walls 12 feet thick, the towers also served as air-raid shelters for up to 10,000 people.
Allied bombers conducted 52 raids on Vienna. The heaviest attack on the city took place on 12 March 1945. Several buildings and cultural monuments were destroyed or badly damaged. Almost 9,000 people were killed and around 37,000 homes were destroyed.
VIENNA FLAK TOWERS – AUGARTEN PARK
wikimedia commons
Perhaps the most prominent Flak Towers, Flaktürme VII G (Gun Tower) and L (Command Tower) are two of three surviving Vienna Flak Towers in Augarten Park. These were also the last two Flak Towers constructed in Vienna and were codenamed "Peter."
The cylindrical G-Tower (gun tower) is the highest and the most technically sophisticated of all Luftwaffe Anti-aircraft flak towers in the Third Reich. G-Tower is 55 meters tall (180 feet) and has a 3.5 meter (11.5 feet) thick roof. In 1946, local children playing in the tower ignited 128mm munitions. The explosion blew the roof off the tower.
The square Fire Control tower is 31 meters tall and during WW2 was used as a communications center for detecting Allied bombers and directing ant-aircraft fire.
Today, both Flak Towers are empty and crumbling. Their only residents are pigeons and their guano.
​Those who cannot remember the past are condemned to repeat it. – George Santayana, The Life of Reason, 1905
These imposing historical relics should be preserved as a reminder of what happens when evil men take power. In a deep long-term post World War II malaise, the Austrian government appears to be hoping that these megastructures will simply disappear or somehow be overtaken by the trees in the park.
Rather than choosing to let the Vienna Flak Towers crumble under a policy of "controlled decay," the Austrian government should restore these structures for educational purposes. Restoring the air raid shelters and the lengthy tunnel networks underneath the Flak Towers would make for an outstanding educational exhibit. In fact, Flaktürme II L was successfully converted into the Haus de Meeres or House of the Sea aquarium in 1956. So there is a precedent.
CLICK HERE for directions to the Augarten Park.
THE BUNKER COMPLEX – AUGARTEN PARK
schankwirtschaft.at
At the western entrance to Augarten Park, a former bunker complex has been repurposed into the Die Schankwirtschaft or Bunker Cafe. This off-the-beaten-path cafe has an incredibly interesting vibe to it (as far as converted bunker cafes go). More importantly, the Bunker Cafe has played host to the schallplatten flohmarkt, Vienna's largest vintage vinyl record album flea market, typically held in early November. The record album flea market is a 100 percent local event. There is little to no information advertising the record show and you will likely find more Bee Gees albums than tourists. For those seeking something out of the ordinary, it is a total cultural experience and well worth the time. Contact the Bunker Cafe for details.
CLICK HERE for directions to the Bunker Cafe.
VIENNA FLAK TOWERS – HAUS DES MEERES
wikimedia commons
Since 1956, a Vienna Flak Tower has housed the Haus des Meeres, the city aquarium. Although still identifiable, the Flak Tower has been modernized and changed architecturally to the point it is no longer considered a WW2 landmark. In July 2015, the Vienna City Council unanimously decided to sell the Flak Tower to the Haus des Meeres for a symbolic sum of one euro.
Today, the Haus des Meeres has a permanent exhibition with a 20 minute film and guided tours, focused on Vienna's Flak Towers. It has a rooftop cafe, Cafe Ocean Sky, considered one of Vienna's Top Rooftop Cafes. To visit, travel by Ubahn on the U3 line to Neubaugasse.
CLICK HERE for directions to the Haus des Meeres located at Fritz-Grünbaum-Platz 1, 6th District.
VIENNA FLAK TOWERS – STIFTKASERNE
wikimedia commons
Another Vienna Flak Tower is located at the Stift Barracks. It housed eight 128 mm guns in four pairs and had an additional eight stations each containing four 20 mm guns. This Vienna Flak Tower is currently maintained by the Austrian Army as a safe haven for government officials in the event of a disaster or state of emergency. This tower is inaccessible to the public; however, you can view it from the side streets.
CLICK HERE for directions to the Stift Barracks located at Stiftsgasse 2, 7th District.
VIENNA FLAK TOWERS – ARENBERG PARK
wikimedia commons
Two imposing Vienna Flak Towers are located in the Arenberg Park in the Third District. They were codenamed "Valerian." Constructed in December 1942, these towers primarily served as a deterrent against Allied bombers. Anti-aircraft guns were positioned on the corners of the upper platform. There were eight 128 mm caliber guns and and 16 guns that were 20 mm caliber. Additionally, these two Flak Towers once housed a WW2 military field hospital capable of assisting 800 wounded and served as an air raid shelter for 15,000 residents. These Vienna Flak Towers are closed to the public.
CLICK HERE for directions to Arenberg Park located at Dannebergplatz 9, 3rd District.
OUR EXPERIENCE VISITING THE VIENNA FLAK TOWERS AND BUNKER COMPLEX IN AUGARTEN PARK
After several hours of rummaging through foreign pressings of Beatles and Pink Floyd vinyl albums at the flea market at the Bunker Cafe, we spent an hour walking through the beautiful Augarten Park. We were completely intrigued by the existence of the Vienna Flak Towers and Bunker Complex in the heart of one of Vienna's most popular parks. Only three cities in the world have similar structures: Berlin, Hamburg, and Vienna.
At a distance, these massive, hulking towers of concrete overshadow all the other nearby buildings. Truth be told, I had a greater appreciation of their size when viewing them from a path on the outskirts of the Park.
As we stood there in the Augarten, I traveled back in time to 1945 and imagined two perspectives. I imagined looking down on the Flak Towers from an Allied bomber flying overhead. I then imagined what it must have been like for a resident of Vienna on the ground having to depend on these concrete monstrosities for survival.
Lastly, I imagined what could be — namely, preserving these behemoths for the future in a way people could learn valuable lessons from the past.
Our visit to the Park coincided with a gathering of members of the Jewish community paying their respects to family members in Vienna killed during the Holocaust. This poignant reminder of what evil people are capable of was a sober reality check.
PRO TIPS FOR VISITING THE VIENNA FLAK TOWERS
The following PRO TIPS will help you make your experience touring the Vienna Flak Towers more enjoyable:
PRO TIP 1 — VERY IMPORTANT. The fact that there are monstrous concrete Flak Towers and a bunker complex in Augarten Park is unmistakable. However, there is little to no information to be found on either the Vienna Flak Towers or the bunker. A great reason to read our Travel Guide to the Vienna Flak Towers!

PRO TIP 2 — VERY IMPORTANT. Sadly, you cannot enter the towers or air raid shelters. To really get a sense of how massive these structures are and exactly how much reinforced concrete was used, take the time to observe the Vienna Flak Towers from both vantage points — far away and close up.

PRO TIP 3. The most prominent Vienna Flak Towers are the towers in Augarten Park. Use our directions above to find the other Flak Towers in the city as they are not that well known.

PRO TIP 4. For history buffs, the Haus des Meeres aquarium houses a Vienna Flak Towers Exhibit focusing on their history, construction, and use.

PRO TIP 5. The vinyl record album flea market at the Bunker Cafe is a real treat. Surprisingly, there is a vintage vinyl subculture in Vienna with several hardcore collectors. You can enjoy a bit of history, have a coffee in the bunker, and enjoy searching for various foreign pressings of your favorite albums. Contact the Bunker Cafe for details.
NEAR THIS PLACE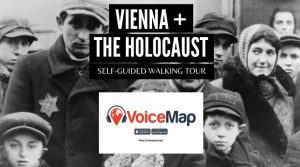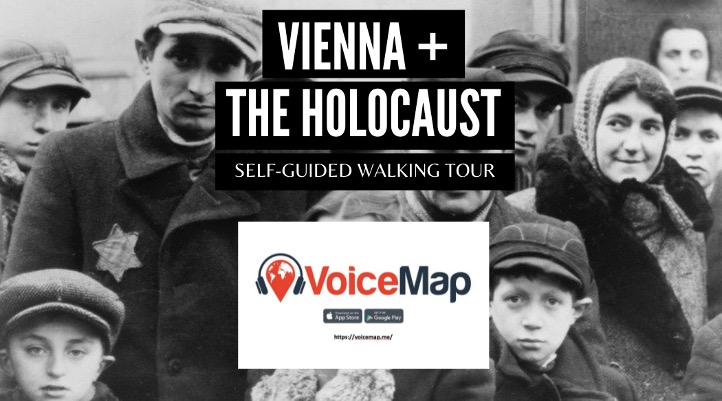 VOICEMAP | VIENNA SELF GUIDED WALKING TOUR. Want to learn how the Mossad operation to bring Nazis like Adolf Eichmann to justice originated in Vienna? Check out our VoiceMap self guided walking tour: VIENNA + THE HOLOCAUST: FROM TRAGEDY TO JUSTICE. You can preview it for FREE. Start point is Nestroyplatz on the U1 red line in the 2nd District.
SEEGROTTE HINTERBRUHL MINE. The Seegrotte Hinterbruhl Mine is a family friendly attraction that was once used by the Nazis to build the world's first fighter jet.
WORLD WAR 2 SITES NEAR VIENNA: MESSERSCHMITT ENGINE FACTORY. Explore World War 2 sites near Vienna along a scenic hiking trail. See the Messerschmitt Bf 110 aircraft repair factory and the front lines of the Battle of Vienna.
BEST PLACES TO STAY
SO/ VIENNA. Designed by the famous architect Jean Nouvel, this stylish hotel is near all of the sites. Panoramic views over Vienna, a gourmet restaurant, a gym, and FREE spa facilities. Modern, spacious rooms with air conditioning, FREE mini-bar, and FREE Wifi. ADDRESS: Praterstraße 1, 02. Leopoldstadt, 1020 Vienna, Austria.
RUBY LISSI HOTEL VIENNA. Boutique hotel located in an 18th-century building in Vienna's first district. Luxuriously furnished rooms with air conditioning, wooden floors, use of tablet device and FREE Wifi. Each room has a Marshall amplifier and guitars can be rented. Organic breakfast and 24/7 access to Italian antipasti and snacks, beverages and selected wines. ADDRESS: Fleischmarkt 19 / Laurenzerberg 2, 01. Innere Stadt, 1010 Vienna, Austria.
GRAND FERDINAND VIENNA. Opened in autumn 2015, located on the Ringstraße boulevard in the center of Vienna. Modern spacious rooms with air conditioning. Rooftop pool, 3 restaurants, fitness center, and FREE Wifi. ADDRESS: Schubertring 10-12, 01. Innere Stadt, 1010 Vienna, Austria.
LE MERIDIEN VIENNA. Located on the Ringstraße in the heart of Vienna. Modern, spacious rooms with amenities. Indoor pool, spa facilities, fitness center, FREE mini-bar, and FREE Wifi. ADDRESS: Robert-Stolz-Platz 1, 01. Innere Stadt, 1010 Vienna, Austria.
RESOURCES
Vienna Unwrapped: Vienna Flak Tower Guide – Why See Our Ugliest Buildings?
War-Documentary: Nazi Flak Towers in Vienna
Die Schankwirtschaft (Bunker Cafe)
BOOKSHELF


Disclosure: White House Travel is a participant in the Amazon Services LLC Associates Program and Agoda affiliate programs, designed to provide a means for us to earn fees by linking to Amazon and affiliated sites at no extra cost to you.