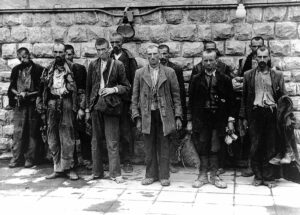 VIENNA'S JEWS WERE DEPORTED FROM THESE FORGOTTEN INTERNMENT CAMPS
PERSPECTIVES
Unlike in Germany, where the Jewish population was deported from several different cities, in Austria deportations of the Jewish population were centralized from Vienna's Aspangbahnhof or Aspang Railway Station. From February 1941 to October 1942, the majority of the Vienna's Jewish population was deported to ghettos and concentration camps in the east from this train station.
The transports to the camps were organized by Austrian born SS Captain Adolf Eichmann, who was in charge of the Nazi Central Agency for Jewish Emigration in Vienna. Eichmann had one primary objective — to speed up the rate that Jews were being deported from the city.
Before being deported, Jews were held against their will at four internment camps in Vienna's 2nd District:
– Malzgasse 7; and
At these camps, Jews were bullied, humiliated, and robbed of their honor and last possessions before being sent to their deaths. Today, these camps have all been completely forgotten to history.
Between 1939-1945, a total of 48,953 Jews were forcibly deported from Vienna. Of this number, 47,035 Jews were forcibly transported on trains that departed from the Aspangbahnhof. Tragically, only 1,073 of the Jews deported from the Aspangbahnhof would survive the Holocaust.