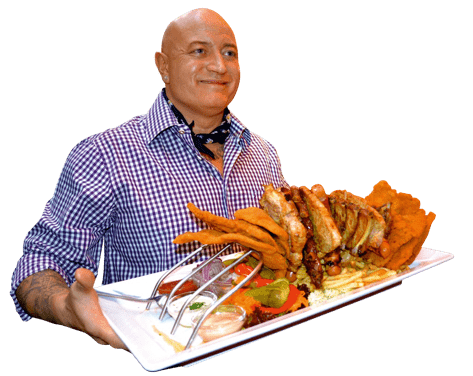 EVERY DAY IS A THANKSGIVING FEAST AT THE LEOPOLDAUER ALM XXL, A FABULOUS LOCAL GEM IN THE 21ST DISTRICT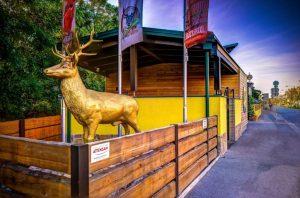 Looking for the restaurant in Vienna that is most off the beaten path? Look no further my friends, you have found it. You have earned your extra, extra-large reward. Enter the Leopoldauer Alm XXL. Tucked away in a neighborhood next to an industrial park in the 21st district, this crave cave of Austrian comfort food is a 10 minute walk from the Aderklaaerstrasse U1 Station (bet you've never heard of it). Better yet, just drive.
Every day is like Thanksgiving here — you will eat and drink to your heart's content, and then drink and eat some more. The Leopoldauer Alm is a veritable Aladdin's Cave of cuisine. The portions are incredibly tasty and unbelievably large (entrees, desserts, salads, and drinks), the prices reasonable, and the staff friendly. Most of all, the staff and owner pride themselves on the quality of their food and your happiness. Order the children's portions and you will have extra food to bring home.
Planning a party? Look no further — you and your friends can partake in the 5.0 liter XXL Beer Tower of Paulaner, the 8.0 liter Tower of Cider, or how about Big Mama's Burger, the Dung Fork of Horror, or the Alpine Platter? For the bravest of hearts, there is also the "Almfeast" complete with the "Alm Power Tower" barrel of beer brought directly to your table. In short, why travel to the Alps when you can take the Ubahn to Aderklaaerstrasse (on the U1 red line)?
OUR EXPERIENCE AT LEOPOLDAUER ALM XXL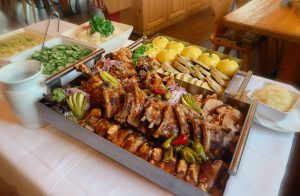 We thoroughly enjoy dining at the Leopoldauer Alm. Since this is Europe, you are not rushed or chased out after completing your meal. Everything on the menu is tasty and the place has an Alpine feel to it even though it is in the suburbs. Since the atmosphere is upbeat and welcoming as well as modern, we routinely bring friends and guests here.
To date, we haven't had a bad experience. That said, our biggest challenge has been pacing ourselves at dinner so we have enough space to enjoy their amazing looking desserts. You will leave completely stuffed and with a potential caee of the "meat sweats" from all the protein you have consumed. As a side, I always order the cream of garlic soup served in a bread bowl. Portions are HUGE — as in the Cheese Cake Factory meets Austria. To give you and idea, my wife and I generally can share a kids portion of chicken schnitzel! By the way, they can schnitzel-ize anything at the Leopoldauer Alm.
Intrigued? Check it out today!
PRO TIPS WHEN VISITING LEOPOLDAUER ALM XXL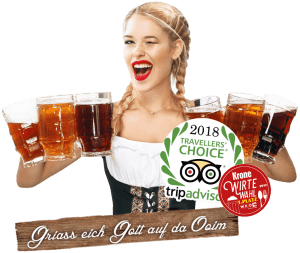 PRO TIP – VERY IMPORTANT. This place is a GENUINE FIND — out of the way and very much overlooked unless… you are a local and know where to go. The food (Austrian cuisine) is incredibly tasty. The beef goulash, chicken schnitzel, and spätzle were excellent. In fact, the goulash gravy was so unbelievably delicious, we subconsciously ordered a stand-alone portion to use with the french fries and schnitzel. You may get strange looks, but try it!

PRO TIP — VERY IMPORTANT. Whatever you order, multiply by two to determine portion size. I don't ever recommend restaurants but felt compelled to flag this one. In fact, we enjoyed our Thanksgiving dinner here!

PRO TIP. Arrive early for the best seating unless you have a reservation. Also, there are two four-person tables in an alcove for private meetings with VIPs.

PRO TIP. The owner (who incidentally looks like Telly Savalas) is a huge Millwall football club fan so if that is your team, you are in luck.

PRO TIP. Park across the street at the XXX Lutz or take the Ubahn.
NEAR THIS PLACE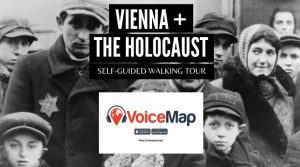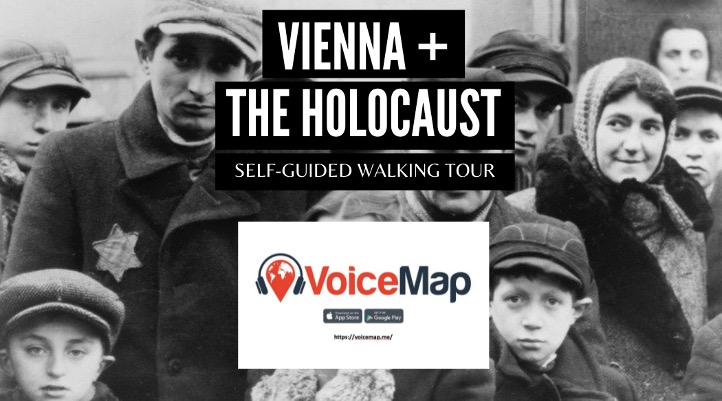 VOICEMAP VIENNA SELF GUIDED WALKING TOUR. If you would like to learn more about efforts to bring Nazis like Adolf Eichmann to justice, then check out our self-guided VoiceMap walking tour: VIENNA AND THE HOLOCAUST: FROM TRAGEDY TO JUSTICE. You can preview it for FREE. Start point is Nestroyplatz on the U1 red line in the 2nd District.
GRIECHENBEISL. The Greichenbeisl Greek tavern has a treasure trove of famous autographs tucked away in a 15h century tavern.
BEST PLACES TO STAY
SO/ VIENNA. Designed by the famous architect Jean Nouvel, this stylish hotel is near all of the sites. Panoramic views over Vienna, a gourmet restaurant, a gym, and FREE spa facilities. Modern, spacious rooms with air conditioning, FREE mini-bar, and FREE Wifi. ADDRESS: Praterstraße 1, 02. Leopoldstadt, 1020 Vienna, Austria.
RUBY LISSI HOTEL VIENNA. Boutique hotel located in an 18th-century building in Vienna's first district. Luxuriously furnished rooms with air conditioning, wooden floors, use of tablet device and FREE Wifi. Each room has a Marshall amplifier and guitars can be rented. Organic breakfast and 24/7 access to Italian antipasti and snacks, beverages and selected wines. ADDRESS: Fleischmarkt 19 / Laurenzerberg 2, 01. Innere Stadt, 1010 Vienna, Austria.
GRAND FERDINAND VIENNA. Opened in autumn 2015, located on the Ringstraße boulevard in the center of Vienna. Modern spacious rooms with air conditioning. Rooftop pool, 3 restaurants, fitness center, and FREE Wifi. ADDRESS: Schubertring 10-12, 01. Innere Stadt, 1010 Vienna, Austria.
LE MERIDIEN VIENNA. Located on the Ringstraße in the heart of Vienna. Modern, spacious rooms with amenities. Indoor pool, spa facilities, fitness center, FREE mini-bar, and FREE Wifi. ADDRESS: Robert-Stolz-Platz 1, 01. Innere Stadt, 1010 Vienna, Austria.
DO&CO HOTEL VIENNA. Steps away from St. Stephen's Cathedral in the heart of Vienna, this elegant hotel features spacious and stylish rooms with modern furnishings, wooden floors, air conditioning, and FREE Wifi. FREE use of neighborhood fitness center. ADDRESS: Stephansplatz 12, 01. Innere Stadt, 1010 Vienna, Austria.
RESOURCES


Disclosure: White House Travel is a participant in the Amazon Services LLC Associates Program and Agoda affiliate programs, designed to provide a means for us to earn fees by linking to Amazon and affiliated sites at no extra cost to you.