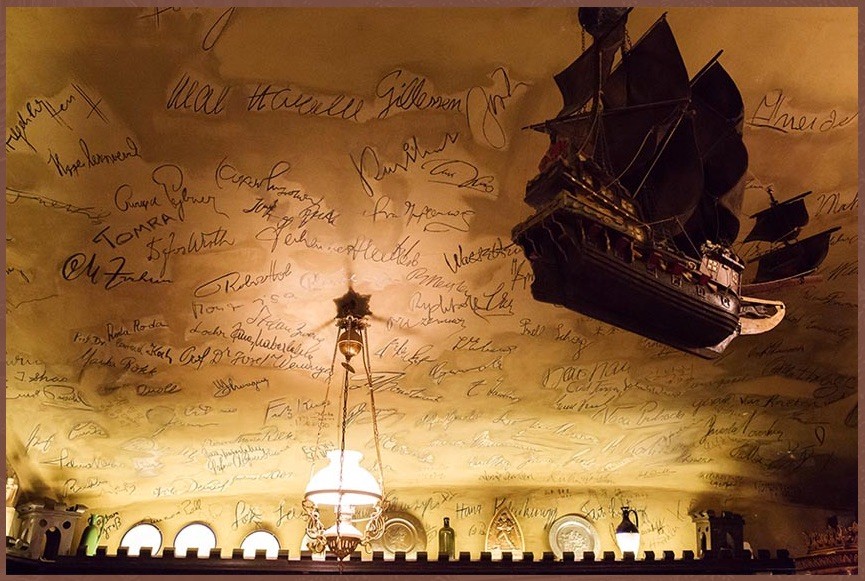 THE GRIECHENBEISL: A TREASURE TROVE OF FAMOUS AUTOGRAPHS TUCKED AWAY IN A 15TH CENTURY GREEK TAVERN
Tucked away in the 1st District of Vienna in an unassuming building is one of the city's best-kept secrets. One of the oldest (if not the oldest) taverns in Vienna, the Griechenbeisl (Greek Tavern) has attracted merchants, artists, musicians and authors to eat, drink and make merry since 1447.
During Suleiman the Magnificent's siege of Vienna in 1529, the Tavern was situated on the front lines of the battle. In fact, there is are three Ottoman cannonballs still embedded in one of the interior walls under a stairwell. The wine cellars were built between the 14th – 16th centuries. Some sections of the wine cellars date to Roman times when Vienna was known as Vindobona.
Check this out. In 1852, Griechenbeisl innkeeper, Leopold Schmied brought "Pilsner Urquell" beer from Pilsen, Bohemia to Vienna and served it for the very first time at this tavern.
During the early 20th century, silent film actor Charlie Chaplin lived for a period at the tavern. However, the coolest feature of the Griechenbeisl is the autograph room, tucked back in a private dining room – aptly named the Mark Twain Room – opposite the bar. Throughout the years (and centuries), artists and musicians signed the dining room wall after completing their meals. Beethoven, Mozart, Schubert, Wagner, Strauss, Brahms, Johnny Cash, Phil Collins, Luciano Pavarotti, Egon Schiele, David Hasselhof, and Mark Twain have all left their mark.
Skeptical? Are the autographs real, forged, or somewhere in between? Don't worry about it, just enjoy this eccentric place.
OUR EXPERIENCE AT THE GRIECHENBEISL
wikimedia commons
We really enjoy this kind of place — small, quaint, interesting, in an ancient alley, and relatively unknown. We learned about the Griechenbeisl from a friend (who didn't provide us with any directions). After combing through side streets of Vienna's historic 1st District, we found the Griechenbeisl in an unassuming alley.
If you really want to explore the entire tavern then you cannot be shy. So, we asked the bartender for a tour and took advantage of his gracious offer to "show us around." As they say, he who hesitates is lost (literally, in the case of the Briechenbeisl). The Griechenbeisl has a magnificent old bar and is a warren of creaky wooden floors.
The Mark Twain room was decorated wall to ceiling with autographs. If you ask politely, the bartender will use a long bamboo stick to point out who's who on the wall. We enjoyed seeing Johnny Cash's autograph just as much as the autographs of Mozart, Beethoven, and Schubert.
The food is your standard Austrian fare with local beer, schnitzel and pork dishes, strudel and dumplings. To enjoy dinner in the Mark Twain room, you need to book it in advance.
Overall, the Griechenbeisl is an eccentric type of place you would bring your parents or out of town guests to visit.
PRO TIPS FOR VISITING THE GRIECHENBEISL (GREEK TAVERN)
Here is a punch list of PRO TIPS to help you enjoy your experience at the Griechenbeisl.
PRO TIP 1. After you enter the Griechenbeisl, look to your left to see cannonballs lodged in the wall under the stairwell.

PRO TIP 2. Don't be shy — ask the bartender to take you to the autograph room. That said, try to visit during off-hours when there are no customers. The staff are trained to highlight the various autographs on the wall using a long bamboo stick to point them out.

PRO TIP 3. After you exit, turn right and enter the cobblestone-lined alleyway. There is a literal "hole in the wall" coffee shop complete with barista tucked inside the old tower in essentially what is a "to go" window. The shop is the Fenster Cafe. Fenster means "window" in German. They sell 1100 cups of coffee per day and have been rated one of the best 50 coffee shops in the world. Grab a cup of hot joe, get motivated, and explore!

Google Maps 2022

PRO TIP 4. Stroll down the steps and walk towards the Schwedenplatz Ubahn/tram station. Enjoy a gelato at the Eissalon near the Ubahn. The staff speaks Italian, so if you politely ask Posso Provare ______ (can I try…) you will get various gelato samples all day long.
NEAR THIS PLACE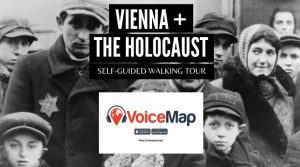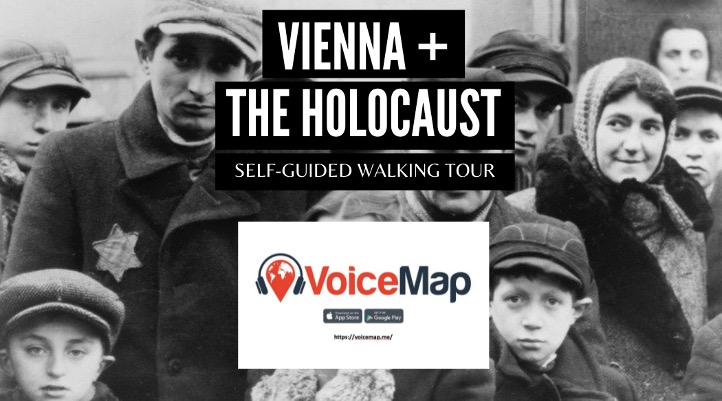 VOICEMAP | VIENNA SELF GUIDED WALKING TOUR. Want to learn how the Mossad operation to bring Nazis like Adolf Eichmann to justice originated in Vienna? Check out our VoiceMap self guided walking tour: VIENNA + THE HOLOCAUST: FROM TRAGEDY TO JUSTICE. You can preview it for FREE. Start point is nearby Nestroyplatz on the U1 red line in the 2nd District. The Schwedenplatz station is a great jumping off point for the tour.
LEOPOLDAUER ALM. Every day is a Thanksgiving feast at the LEOPOLDAUER ALM XXL, a fabulous out of the way local gem in the 21st District.
BEST PLACES TO STAY
SO/ VIENNA. Designed by the famous architect Jean Nouvel, this stylish hotel is near all of the sites. Panoramic views over Vienna, a gourmet restaurant, a gym, and FREE spa facilities. Modern, spacious rooms with air conditioning, FREE mini-bar, and FREE Wifi. ADDRESS: Praterstraße 1, 02. Leopoldstadt, 1020 Vienna, Austria
RUBY LISSI HOTEL VIENNA. Boutique hotel located in an 18th-century building in Vienna's first district. Luxuriously furnished rooms with air conditioning, wooden floors, use of tablet device and FREE Wifi. Each room has a Marshall amplifier and guitars can be rented. Organic breakfast and 24/7 access to Italian antipasti and snacks, beverages and selected wines. ADDRESS: Fleischmarkt 19 / Laurenzerberg 2, 01. Innere Stadt, 1010 Vienna, Austria.
GRAND FERDINAND VIENNA. Opened in autumn 2015, located on the Ringstraße boulevard in the center of Vienna. Modern spacious rooms with air conditioning. Rooftop pool, 3 restaurants, fitness center, and FREE Wifi. ADDRESS: Schubertring 10-12, 01. Innere Stadt, 1010 Vienna, Austria
LE MERIDIEN VIENNA. Located on the Ringstraße in the heart of Vienna. Modern, spacious rooms with amenities. Indoor pool, spa facilities, fitness center, FREE mini-bar, and FREE Wifi. ADDRESS: Robert-Stolz-Platz 1, 01. Innere Stadt, 1010 Vienna, Austria
DO&CO HOTEL VIENNA. Steps away from St. Stephen's Cathedral in the heart of Vienna, this elegant hotel features spacious and stylish rooms with modern furnishings, wooden floors, air conditioning, and FREE Wifi. FREE use of neighborhood fitness center. ADDRESS: Stephansplatz 12, 01. Innere Stadt, 1010 Vienna, Austria
RESOURCES
Griechenbeisl Wikipedia (English)
Griechenbeisl Wikipedia (German)


Disclosure: White House Travel is a participant in the Amazon Services LLC Associates Program and Agoda affiliate programs, designed to provide a means for us to earn fees by linking to Amazon and affiliated sites at no extra cost to you.