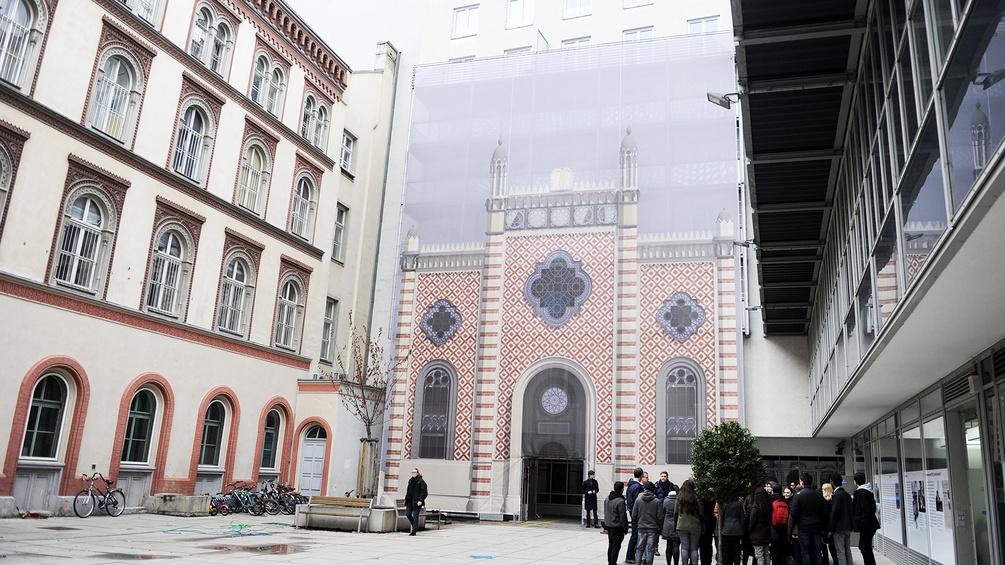 LEOPOLDSTADT TEMPLE
Tempelgasse 5, 2nd District

PERSPECTIVES
The synagogue was attacked, all the windows were shattered, the pews were smashed, the curtain of the Ark torn into pieces, and a Torah scroll thrown outside. The entire contents of the synagogue were destroyed, Torah scrolls were thrown to the ground and torn and three scrolls were removed together with the Ark. The black memorial plaques on the walls were smashed.

Aharon Arnold Rosenfeld
On a quiet side street within easy walking distance from the Nestroyplatz Ubahn station once stood Vienna's largest synagogue. On morning of 10 November 1938, the Nazis destroyed the Leopoldstadt Temple during Kristallnacht (the Night of Broken Glass). Two-thirds of the Leopoldstadt Temple was burned to the ground on Kristallnacht.
Throughout Jewish Vienna, Nazis burned down 42 temples and places of worship "by throwing hand grenades inside or by setting fire to the furniture." In Leopoldstadt, the party mob fed a pyre with Torah scrolls, Talmud folios and prayer books for 40 hours and danced to shreds the Torah scrolls spread out next door.
During this horrible period, 7,800 Jews were arrested and 27 killed. Over 4,000 shops were shuttered "to bring Aryan retail trade to a healthy economic situation." In Vienna's 1st District, 2,000 Jewish owned apartments were taken by force to make way for party members. Vienna would never be the same again.
Today in Jewish Vienna, the remaining section of the Leopoldstadt Temple is a Hebrew school. Tall white pillars have been erected where the main entrance to the synagogue once stood. As you continue past the memorial, you will notice an exhibit along the fence containing a timeline and vintage photographs. It is worth a closer look as there are several before and after photographs.
BEFORE KRISTALLNACHT
LEOPOLDSTADT TEMPLE TODAY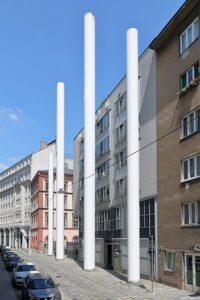 Disclosure: White House Travel is a participant in the Amazon Services LLC Associates Program and Agoda affiliate programs, designed to provide a means for us to earn fees by linking to Amazon and affiliated sites at no extra cost to you.