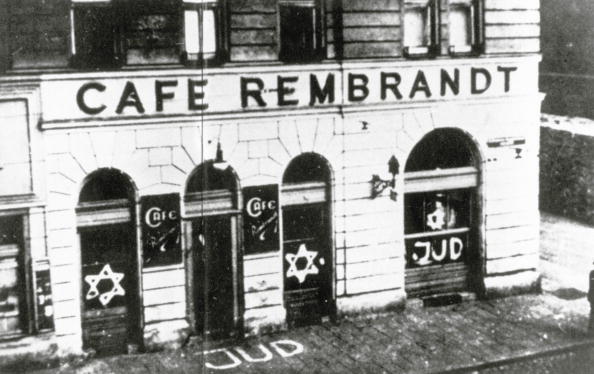 CAFE REMBRANDT
Untere Augartenstrasse 11, 2nd District

PERSPECTIVES
The regular customers of the Vienna coffee houses – literary, artistic, intellectual, political, Jewish and non-Jewish – were expelled or killed, left the country "voluntarily" or stopped coming to the café for other reasons. The coffee houses themselves (including Cafe Rembrandt) were "Aryanized" – expropriated and made "Judenfrei." But sooner or later, most of them had to close – the regular guests were just missing…

tinteundkaffee.net

"All hell broke loose that night. The underworld had opened its gates and unleashed its basest, most hideous, unclean spirits. … The air was filled with an incessantly shrieking, wild, hysterical screeching from the throats of men and women, which went on shrilling day and night. And all people lost their face, like distorted grimaces: some in fear, others in lies, others in wild, hateful triumph. …

What was unleashed here was the rebellion of envy, resentment, resentment, blind malicious revenge – and all other voices were condemned to silence. … Nothing was let loose here but the dull masses, the blind rage for destruction, and their hatred was directed against everything that was ennobled by nature or spirit.

Carl Zuckmayer
VANDALIZED AND CONFISCATED
Immediately following the declaration of the Anschluss, the German Wehrmacht marched into Austria in the morning hours of 12 March 1938. In Jewish Vienna, Jews were dragged out of their apartments and publicly humiliated to the spiteful applause of bystanders. Jewish shops were vandalized and looted. Jewish owners then had their business confiscated. National Socialists and their sympathizers used the first few weeks after the "Anschluss" to enrich themselves.
One of the first great Viennese coffee houses attacked was Café Rembrandt at Untere Augartenstrasse 11. Nazis vandalized the Cafe, marked it as Jewish property, and confiscated it. Patrons were no longer allowed to visit the coffee house. Soon after, the Nazis confiscated Cafe Rembrandt. The great cafe culture of the Habsburg empire, the meeting place of intellects, was dead.
STONE OF REMEMBRANCE
On May 31, 2011, a stone of remembrance was laid on the sidewalk in front of Untere Augartenstrasse 11, where Cafe Rembrandt once stood. The stone was donated by the Stones of Remembrance Association for Jewish Victims of the Holocaust .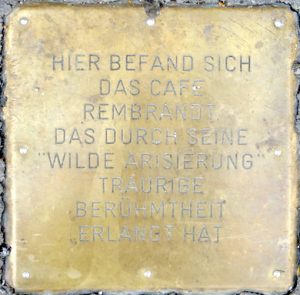 CAFE REMBRANDT TODAY
Sadly, the meeting place of Vienna's intellectuals and Jewish leaders — the magnificent Cafe Rembrandt — never fully recovered from World War 2. After the war the building was renovated and today bears little resemblance to the once glorious cafe that occupied the ground floor.