DISCOVER THE GARDEN OF EDEN AT THE PLITVICE LAKES NATIONAL PARK — A UNESCO WORLD HERITAGE SITE
Would you like to visit paradise? Then look no further. The Plitvice Lakes National Park is a must-see outdoor travel destination. In fact, the Park is one of the most beautiful and unique places we have ever visited. No photograph can do it justice. You better book your lodging and tickets now, as the Plitvice Lakes are quickly becoming a popular tourist hot spot. If you are ready for a bit of off the beaten path adventure, then read on! Read our guide below on visiting the Plitvice Lakes National Park.
UNESCO WORLD HERITAGE SITE
Since 1979, the Plitvice Lakes National Park has been recognized as a UNESCO World Heritage Site. The Park is located in the mountainous Karst region of central Croatia, along the border of Bosnia and Herzegovina. As a UNESCO site, the area is protected — each year one million-plus visitors enjoy this 73,350-acre natural wonder.
Sadly, during the 20th century, uncontrolled tourism and water pollution from the surrounding hotels and farms has caused immense damage to the Park. Now, there are strict laws to prevent swimming (and bathing) in the Lakes.
The Park is divided into two sections — the Upper Lakes and Lower Lakes — created by the runoff water from the nearby mountains. Plitvice is world-famous for its breathtaking cascading waterfalls and 16 lakes. There are 12 Upper Lakes and four Lower Lakes — formed 15,000 years ago after the last Ice Age.
The largest waterfall, Veliki Slap, has an impressive 256 foot drop. There are wooden boardwalks throughout the Park. Along the Upper Rim of the Park, there are paths that provide unrivaled views of the Park. Photo opportunities await at every corner.
The color of the water is absolutely amazing — various shades of green, turquoise, blue and grey. A result of the underlying limestone and porous calcium hydrogen carbonate soil combined with the dramatic drop in elevation (436 feet), the water flows over and through the earth creating an otherworldly effect. Overall, this natural phenomenon is majestic to behold.
GUIDE TO VISITING PLITVICE LAKES NATIONAL PARK
Plitvice Lakes National Park is definitely worth two full days of exploration. To make the most of your visit, we have provided several PRO TIPS below for the UPPER LAKES, the LOWER LAKES, and the UPPER RIM.
THE UPPER LAKES
Julia Rumyantseva
PRO TIP 1 – VERY IMPORTANT. For the Upper Lakes, we highly recommend taking the free shuttle to the highest point of elevation in the Park and then exploring on foot (which is all downhill). This approach was far more enjoyable and efficient than trekking uphill to the starting point. However, the shuttle ride is not for the squeamish — if you don't like being whipped around curves with steep drops then I recommend closing your eyes. If you enjoy thrill rides, you are in luck. Overall, the shuttle was perfectly safe. As the uphill shuttle tip is priceless, please share our Guide to visiting the Plitvice Lakes National Parks with others.

PRO TIP 2. We spent four hours hiking the Upper Lakes trail. This scenic trail is an easy hike and there are tree stumps and some benches along the way if you need to rest. Save some energy for the end as you will need to walk uphill (on paved paths) to exit the Park and return to your vehicle unless you are lucky enough to have a family member collect you in their car. Also, bring a backpack with several bottles of water as there are limited opportunities to purchase water once you enter the Park.
THE LOWER LAKES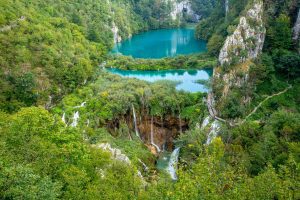 PRO TIP 3 – VERY IMPORTANT. To explore the Lower Lakes, we recommend something completely different. Thanks to the genius local knowledge of our host at Apartmani Buric in the small Croatian village of Selište Drežničko, we received a "secret map" that let us enjoy the Park from an entirely different perspective from the Upper Rim. Apartmani Buric is a hidden gem and is highly recommended. You will only know about the Upper Rim if you are reading our Guide to visiting Plitvice Lakes National Park.

SECRET MAP | START POINT: Selište Drežničko 100, 47246 Seliste Dreznicko, Croatia. The Start Point for car/bicycles is outside the Park on Route 1. From the Start Point, continue south on Route 1 toward Plitvice Lakes National Park (you will see signs). After 1/2 mile, the road will split. Stay to the right and head toward Route 42. Continue uphill on Route 42 for three miles. Route 42 will then turn into a dirt road. Once you cross over a very shaky looking wooden bridge (which is safe), park at your earliest convenience on the grass/gravel to your right.
THE UPPER RIM
You are now at the Upper Rim overlooking the Lower Lakes. The wooden bridge you crossed over has snowmelt flowing under it that feeds a 256-foot waterfall. Venture slightly into the woods across the street — there should be several dirt paths.
PRO TIP 4. Follow any one of these paths for an incredible view of the Lower Lakes. You can explore the rim of the Park on foot for several miles. You can drive along the Upper Rim road as well. The Lower Lakes will always be on your left. If you are feeling energetic, you can hike down below to the waterfalls — there are 300 plus stairs to the valley floor.

PRO TIP 5. Overall, there are several gorgeous vistas to enjoy — we literally had the place to ourselves even though there were thousands (and I mean thousands) of tourists below viewing the Lower Lakes. Be incredibly mindful of the steep drop (several hundred feet) and the lack of facilities. That said, this is a great place for a packed lunch or picnic.
PARENTAL WARNING
Children should absolutely 100% be under their parents' control at all times. Be careful. Stand back and observe — although there are railings and other safety features, they are constructed from wood and as such are not overly sturdy or reliable. Stairs are uneven and concrete is crumbling in places.
DO NOT rely on the Croatian handrails for your safety and DO NOT lean on the railings. There are signs stating that tickets are required to visit the upper rim; however, we faced no scrutiny. Although it is a public road and maintained by the government, as always you must exercise caution and follow at your own risk.
OUR EXPERIENCE VISITING PLITVICE LAKES NATIONAL PARK
Wikimedia Commons
Mitchell Prest
I know it is hard to believe, but the Garden of Eden really is in Croatia. You will be hard-pressed to find a more beautiful place in our world. We visited in the Spring and were not disappointed. In the Spring, Mother Nature has an opportunity to really show off as the snowmelt comes down from the mountains. During the winter, the Lakes transform into an icy wonderland. We spent two entire days exploring every nook and cranny in the Park.
After parking our vehicle, we paid for our entrance tickets and then walked to the shuttle bus stop. We chose to explore the Upper Lake first and took the shuttle uphill to the highest elevation within the Park. After experiencing a theme park quality ride on a road with numerous switchbacks and no guard rails, we continued our journey on foot.
The trail was well marked and we crossed over the Upper Lake at several points on elevated wooden boardwalks (with no railings for aesthetic purposes). Overall, the scenery and footbridges felt like something straight out of a J.R.R. Tolkien novel.
After reaching the end of the trail, we boarded a boat that took us across the Upper Lake. The most strenuous portion was the uphill walk (on paved surface) back to our vehicle. We spent the second day exploring the Lower Lake; however, we enjoyed it from an entirely different vantage point that was equally if not more rewarding and highly recommended.
We hope you enjoy our Guide to visiting Plitvice Lakes National Park and the valuable nuggets of information we provided.
OTHER PRO TIPS FOR VISITING PLITVICE LAKES NATIONAL PARK
Wikimedia Commons
PRO TIP 6 – VERY IMPORTANT. Purchase the 2-day pass to save money and ensure you have enough time to enjoy the entire Park.
PRO TIP 7. Surfaces are flat. Be prepared to do quite a bit of walking. There are some stairs that you must take to reach certain parts of the Park. Overall, the majority of the waterfalls can be viewed from the elevated wooden walking paths that traverse the Park.
PRO TIP 8. There are some food options; however, we highly recommend packing water and light snacks. Once you depart the parking lot you are on your own.
PRO TIP 9. There is a nice website that offers several routes in the Park. It can be found at this link: NP Plitvice Lakes – Programs.
PRO TIP 10. If you forget something don't fret, the gift shop is robust and offers everything from local wines and homemade liquor to sandwiches, t-shirts, hoodies, books, and postcards. Remember sunglasses or a hat.
PRO TIP 11. There is abundant parking in several large lots near the ticket office. Parking is free for bicycles and motorcycles. Parking can be paid with cash or credit card.
NEAR THIS PLACE
TRAVEL GUIDE | RASTOKE VILLAGE. Rastoke, or "the small Plitvice Lakes," is a historic mill town constructed on several islands at the confluence of the Slunjčica and Korana rivers. It is unlike anything you have ever experienced.
KUTEREVO BEAR REFUGE. Far off the beaten path, tucked away on the fringes of the Velebit National Park in Croatia, lies the Kuterevo Bear Sanctuary, a refuge for brown bears. Difficult to find but well worth it — an unforgettable experience. ADDRESS: 53220, Kuterevo, Croatia.
KAYAKING. Enjoy all the pleasures of a 3-hour river kayak trip without battling against the current on the way back on this self-guided adventure that includes vehicle transfers back to the starting point. Marvel at the underwater life of the spectacular Gacka River through your transparent kayak as you paddle 5 miles (8 kilometers) through tranquil landscapes. ADDRESS: Unnamed Road, 53220, Prozor, Croatia.
WAR TORN VILLAGES FROM THE SERBO-CROATIAN WAR. The mountains and farm fields to the north of Route 52 from Plitvice to Otočac were once a battlefield with fighter jets dropping bombs on the neighboring villages and snipers shooting their targets from their perches in claimed buildings. Everywhere you look, the bombed-out and bullet-riddled towns serve as a sober reminder of this horrific unnecessary conflict.
BEST PLACES TO STAY
APARTMANI BURIC. Shhhhhh……. Upscale lodging with spacious apartments and incredible hospitality in the middle of rural Croatia. Excellent breakfast. The only true 4-star lodging in the area. Located minutes from the Plitvice Lakes National Park. ADDRESS: Selište Drežničko 100, 47246 Seliste Dreznicko, Croatia.
MOBILE HOMES CAMPING PLITVICE. Shhhhhh……. Yes, this is a 5-star mobile home lodging option and it is wonderful. Modern, contemporary units with hardwood floors and air conditioning, outdoor pool, fitness center, buffet breakfast, and FREE Wifi. Located meters away from the Plitvice Lakes National Park. ADDRESS: Smoljanac, 53231 Plitvička Jezera, Croatia.
RESOURCES
Plitvice Lakes National Park UNESCO World Heritage Site


Disclosure: White House Travel is a participant in the Amazon Services LLC Associates Program and Agoda affiliate programs, designed to provide a means for us to earn fees by linking to Amazon and affiliated sites at no extra cost to you.