THE MEMORIAL OF THE IRON CURTAIN IN CIZOV — WHERE EAST ONCE MET WEST AT THIS PRESERVED SECTION OF FENCING
The small border village of Cizov has a special Cold War distinction. What is it you might ask? Cizov is the only place in the Czech Republic to have an original section of the Iron Curtain fence that once separated East and West. Today, you can see this piece of history up close and personal at Memorial of the Iron Curtain in Cizov — one of the most unique memorials in Europe.
A BRIEF HISTORY
Magnum Photos
In 1968, the Soviet Union invaded and consumed Czechoslovakia. This small section of the Iron Curtain in Cizov was part of an extensive 7,000 km (4,300 mile) long physical barrier of fences, walls, minefields, and watchtowers. The Berlin Wall was also part of this same barrier. For citizens of the former Czechoslovakia, this inner fence was the real Iron Curtain. For history lovers, this preserved relic is a hands-on dream come true well worth exploring.
An iron curtain is drawn down upon their front. We do not know what is going on behind.

Winston Churchill
THE COLD WAR – EAST VERSUS WEST
Bill of Rights Institute
Implemented at the end of WW2, the Iron Curtain was initially a non-physical boundary dividing Europe into separate spheres of political influence. In short, the victors carved up Europe and divided it. On the eastern side of the Iron Curtain were countries connected to or influenced by the former Soviet Union. The Soviet Union forcibly exercised its brand of communism over the nations in "Eastern Europe," installing puppet governments and occupying them militarily. These Eastern Bloc nations were aligned economically and militarily under the Warsaw Pact.
Countries to the west of the Iron Curtain formed a military alliance to counter Soviet efforts. This alliance became known as the North Atlantic Treaty Organization (NATO). The countries of "Western Europe" were predominantly defined by democratic governments and capitalism.
Separate international economic and military alliances were developed on each side of the Iron Curtain. Switzerland, Liechtenstein, Austria, Sweden, Finland, Malta and the Republic of Ireland remained neutral. In 1991, the Cold War ended and the Iron Curtain fell opening borders once again between East and West.
THE FORBIDDEN ZONE
So close to freedom yet so far away, Cizov is a mere 3.5 km (2 miles) from the Austrian border. Until 1989, Austria and Czechoslavakia were separated by a buffer zone, a sort of no man's land along the border. Cizov was situated next to one of these zones.
A "forbidden zone" was established up to 2 km (1.2 miles) from the border where no civilians could reside.
A wider region known as the "border zone" was up to 12 km (7.5 miles) from the border. Disloyal or suspect civilians could not reside or work in the border zone. Today, the region around Cizov has been converted into the Podyjí National Park.
During the Cold War, armed border guards would have patrolled the fencing along the forbidden zone to keep enemy spies and saboteurs out of Czechoslovakia. In reality, they were guarding a giant Soviet-occupied prison and serving a regime desperately trying to prevent its own people from escaping. Anyone approaching the fence faced suspicion and serious consequences. Those found in the region near the border would be questioned or interrogated by the police.
Border guards had orders to shoot anyone who attempted to cross over. If you were captured or surrendered, you could expect a lengthy prison term for treason against the state. A forbidden zone, the Podyjí National Park region was completely off-limits to all citizens.
THE FENCE AND WATCHTOWER
In Cizov, a 200 meter (660 feet) long section of the Iron Curtain fence is punctuated by a watchtower where an armed border guard would have stood waiting to shoot. The path is lined with a double row fencing and has wooden t-shaped poles outfitted vertically and horizontally with barbed wire. Climbing over or sneaking through would have been impossible.
At the actual border crossing, metal hedgehogs and concrete dragon's teeth would have prevented vehicles from passing through without authorization. Border guards would have scrutinized all foot and vehicular traffic. Accompanied by dogs, guards would have patrolled the inside gap between the fences and also the outer fence. In some places, there were three and four rows of fencing.
Before the 1960s, the fence was electrified with 10,000 volts. Eventually, the electric fence was deemed "inhumane" and was removed. Instead, electronic tripwires were installed to detect physical activity near the fence. In 1989, Czechoslavakia had its Velvet Revolution. It wasn't long after that the border fencing came down.
OUR EXPERIENCE AT THE FASCINATING MEMORIAL OF THE IRON CURTAIN IN CIZOV
BBC
This is a very unique piece of history and well worth the journey to see it. Not having the specific address, we drove through several small border villages asking for directions to Cizov and the Iron Curtain Memorial. (Please note, we do not speak Czech.) Once we showed a Czech farmer and his family a photograph of the watchtower, the elderly grandfather was able to guide us. If we had more time (they were on their way to dinner), I would have asked him for an interview.
In short, the Cizov Memorial of the Iron Curtain is very much off the beaten path. Good news! You have the geocoordinates above to plug into the map application on your phone. Once we arrived, we parked our car and walked the length of the fence. The cool thing is you can get as close as you want and explore.
We climbed the stairs on the watchtower to get a better look and some photographs. This hands-on experience provided us with a great opportunity to discuss the Cold War with our son. We were able to share stories of our experiences growing up during this period which only added to the experience.
PRO TIPS FOR VISITING THE CIZOV MEMORIAL OF THE IRON CURTAIN
PRO TIP 1 — VERY IMPORTANT. TOP SECRET To find the Cizov Memorial of the Iron Curtain, click on the MAP button above or CLICK HERE to open Google Maps. This town is very much off-the-beaten path.

PRO TIP 2. The Memorial of the Iron Curtain is open 24/7 and is located on the side of the road in the small village of Čížov. Parking is free and ample and there is a small gravel lot. The price of admission is unbeatable — free. A dirt road with a slight incline parallels the Iron Curtain fence. It is nothing unmanageable and could be traversed with a stroller.

PRO TIP 3. For a more meaningful experience, we highly recommend reading up on the Cold War. Better yet, the locals in this region experienced the Cold War firsthand. Engage them and ask for their thoughts on the Iron Curtain. These interactions will make history come alive.

PRO TIP 4 – VERY IMPORTANT. DO NOT sit in your car. Get out and explore on foot. It is allowed.
NEAR THIS PLACE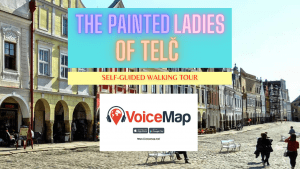 VOICEMAP | TELC SELF GUIDED WALKING TOUR. Experience the pretty town of Telč with its spectacular medieval square, baroque-renaissance architecture, and vibrant history. The Painted Ladies of Telč are among the many wondrous features of this UNESCO designated fairytale town that really has it all.
TRAVEL GUIDE | CESKY KRUMLOV. A UNESCO World Heritage Site, Cesky Krumlov is an unforgettable medieval wonder in Central Europe. "Little Prague" has so many things to see, do, and experience.
TRAVEL GUIDE | RETZ UNDERGROUND WINE CELLARS. Retz has a beautiful medieval square and the largest and most unique system of underground wine cellars in Central Europe.
GALGENBERG WINE CELLAR ROAD. Welcome to the Wine Cellar Road of Galgenberg with over 180 wine cellar houses built into the scenic countryside. Walk, bicycle or jog and enjoy!
BEST PLACES TO STAY
HOTEL TELČ. The best hotel in Telč is located on the town square in the upper town. The service is fantastic, the suite-style rooms are spacious and comfortable, and the desserts in the Cafe are to die for. The owner, Veronika, loves her guests and runs Hotel Telč in a manner every hotel should aspire to achieve. Hospitality is overly abundant here. Her homemade cakes and desserts are absolutely delectable. Hotel Telč is the perfect place for a weekend getaway or a special occasion. We highly recommend Hotel Telč and stay here whenever we are in the neighborhood. ADDRESS: Na Můstku 37, 588 56 Telč, Czechia.
APARTMANY CHORNITZERUV DUM. Located on the historic square of Telč, Apartmany Chornitzeruv Dum is in a 16th-century Burgher home. Luxurious, spacious, modern apartments with FREE WiFi and FREE parking. The soundproofed apartments come with hardwood floors and wooden beams, fully equipped kitchens with a dining table and a large seating area. Gothic vaulted cellar and an outdoor garden. ADDRESS: Namesti Zachariase z Hradce 56, Telč, 58856, Czech Republic.
VINOSPA – HOTEL ALTHOF RETZ. An elegant hotel with a relaxing infinity pool and top-notch spa services available to guests. ADDRESS: Althofgasse 14, 2070 Retz, Austria.
SONNENHUGEL WINERY. A family-operated winery with four guest rooms on-site and access to the vineyard, wine tasting, and more. ADDRESS: A-2074 Unterretzbach, Herrengasse 59, Retz, Austria.
BOOKSHELF


Disclosure: White House Travel is a participant in the Amazon Services LLC Associates Program and Agoda affiliate programs, designed to provide a means for us to earn fees by linking to Amazon and affiliated sites at no extra cost to you.