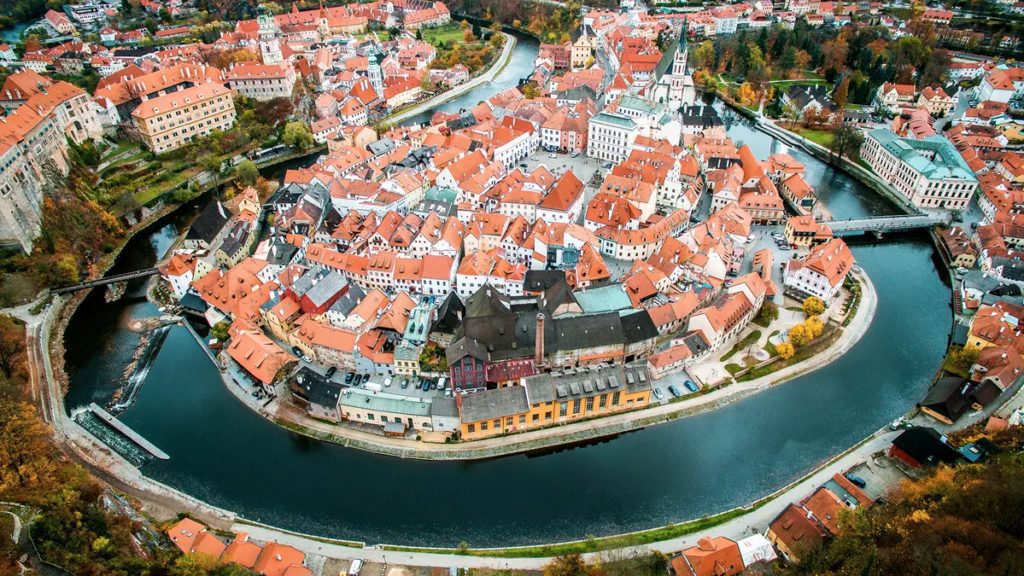 CESKY KRUMLOV IS AN UNFORGETTABLE MEDIEVAL WONDER WITH SO MANY FASCINATING THINGS TO EXPERIENCE
Map Cesky Krumlov, Czech Republic
A UNESCO World Heritage Site since 1992, Cesky Krumlov or "Little Prague" has quickly become a must-see destination in Central Europe. In fact, this charming medieval town is the second most visited site in the Czech Republic. Although Cesk Krumlov has been "discovered" so to speak, it still retains its off the beaten path charm. The bottom line — Cesky Kurmlov is pure joy to explore and there are so many fascinating things to see, do, and experience.
Today, this magnificent town retains all of its Renaissance and Baroque influences. This fairy-tale town is largely defined by the Krumlov Castle perched high upon a hill overlooking the Vltava River. On the opposite banks of the river, the well preserved Old Town is neatly nestled within a horseshoe Riverbend.
The name Český Krumlov has two origins. Krumlov comes from the ancient German words Krumme Aue meaning "crooked meadow." The expression Český simply means "Czech" and has been used in connection with Krumlov since the middle of the 15th century.
Since the Iron Curtain fell in 1989, this small Czech town of some 14,000 manages to host 800,000 visitors a year. In many resopects, it has been discovered.
Let us navigate you through the history, logistics, and pro tips to help you avoid the tourists and make the most of your time on the ground. Read on as we discuss the major sites and activities that define this very cool town.
A BRIEF HISTORY
pixabay.com
What a Castle! First built in 1240, Krumlov Castle was expanded to its current form in the early 14th century. Located along an important trade route since the Bronze Age, prosperity came easily to Krumlov. As a result, the Old Quarter of Latrán quickly arose at the base of the Castle and became home to families with administrative roles.
During the late 14th century, the Old Town and Castle flourished under the rule of the Rosenberg family. Elaborate homes were built and the town was endowed with various privileges such as the right to mill, brew beer and hold markets. Jews were given a special street in the Old Town. Some served as chamberlains and oversaw the Rosenberg family's finances.
In the late 15th century, there was a gold rush — German miners descended upon the town in large numbers and quickly became the ethnic majority (until 1945 when they were expelled — more to come on this). During the 16th century — the town's Golden Age — Cesky Krumlov hosted artists, scientists, and alchemists from all over Europe.
In 1602, the Habsburg emperor Rudolf II purchased Krumlov Castle and gifted it to his crazed sociopathic son, Julius Caesar d'Austria. After years of oppression, Krumlov's citizens had finally suffered enough and revolted against Julius. For the next 100 years, Cesky Krumlov fell under the control of the powerful Eggenberg family. Then in 1719, the Schwarzenberg family became the new rulers. They would rule Cesky Krumlov until 1947.

TWO WORLD WARS AND A COLD WAR
When WW1 ended, Krumlov became part of the Republic of Germany-Austria, an area dominated by German-speakers within what had once been the Austro-Hungarian Empire ruled by the Habsburg family. The newly formed Czechoslovak army soon annexed the region and made it part of Czechoslovakia.
topguide24.com
In 1938, during the early days of WW2, German troops invaded Krumlov after Hitler took control of the Sudetenland under the Munich Agreement. Adolph Schwarzenberg, the owner of Cesky Krumlov, was a vocal critic of Hitler and the Nazi Party and strongly supported the liberties of the Jewish people. Hitler visited Cesky Krumlov on 20 October 1938.
Incredibly defiant, Schwarzenberg refused to receive Hitler at Cesky Krumlov. Thumbing his nose at Hitler, he also defied Nazi orders to replace his staff with ethnic Germans. A top target for Nazi persecution and arrest, Schwarzenberg fled and emigrated to the United States in 1939. In August 1940, the Gestapo confiscated Schwarzenberg's properties including his beloved Castle.
THE SCHWARZENBERG FAMILY
europebetweeneastandwest.com
Adolph Schwarzenberg was defiant. Cesky Krumlov and other Schwarzenberg properties were highly coveted by senior Nazi leadership including Hermann Göring, Martin Bormann and the Gauleiter of Oberdonau August Eigruber. In addition to Krumlov Castle, Schwarzenberg would lose 55,000 hectares and his favorite residence, the Stara Oborna hunting lodge. During the war, after pillaging the residence, the Nazis used the hunting lodge as a convalescence home for officers.
Like father like son — Adolph's son, Heinrich, also virulently opposed the Nazis. He was arrested under the direct orders of Heinrich Himmler and was sent to the Buchenwald concentration camp. Released in 1944, Heinrich Schwarzenberg survived the remainder of WW2 as a forced laborer.
While in exile and throughout the War, Adolph Schwarzenberg supported exiled leader Edvard Beneš and the Czech resistance and remained an outspoken opponent of the Nazi regime. Schwarzenberg was strongly pro-Czechoslovakia. During a breakfast in 1937, Schwarzenberg provided one million Czech crowns to Beneš to purchase weapons to counter Nazi aggression. On 7 May 1945, Krumlov was liberated by the U.S Third Army under the command of General George S. Patton, Jr.
Schwarzenberg had earned his Ph.d. at Columbia University in New York and correctly believed he would be treated fairly by the U.S. Army. What he did not count on was the rapid U.S. withdrawal of troops from the region and the ensuing vacuum that was created — a vacuum filled immediately by Soviets. Opposed to anything bourgeois in nature, the Soviets targeted Schwarzenberg and confiscated his property.
Schwarzenberg sued the Soviets to have his property returned and for damages. The Soviets awarded Schwarzenberg 100,000 Czech crowns. Then the Soviets promptly enacted a special new law — the Scwarzenberg Law — and took his property anyway. Schwarzenberg never received a penny. The Soviet Union completely took over the Czechoslovakian government in 1948. Adolph Schwarzenberg passed away two years later in 1950. 70 plus years later, the illegal seizure of Schwarzenberg's property has never been settled. and hopes for restitution have faded. Today, the magnificent properties of the House of Schwarzenberg are open to the world.
CLICK HERE to read It Will All End In Fears – The Fall Of The House Of Schwarzenberg
Historical footnotes:
When WW2 ended, the town's longstanding German-speaking population was expelled.

Although Cesky Krumlov was spared from aerial bombardment during WW2, sadly, under Communist rule, historic Krumlov fell into disrepair. A good news story — since the Velvet Revolution in 1989, this Baroque and Renaissance-era gem has been restored to its former glory.
HOW TO SPEND ONE DAY IN CESKY KRUMLOV
As with most amazing places, there are certain elements that define your experience. Cesky Krumlov has more amazing attractions than most medieval towns. To help you make the best use of your time, we have crafted a list of following things to see, do, and experience while you are visiting Cesky Krumlov. These things are all unique to Cesky Krumlov.
EXPLORE THE TOWN
First, the best part of Cesky Krumlov is being there. You came a long distance to see this medieval wonder. As you check out the Castle and other sites, set aside time to simply explore this gorgeous town. With the exception of a handful of things, you can go just about everywhere for free. You will find that wandering the streets and admiring the architecture is equally rewarding. Every medieval town has a torture museum and other similar tourist attractions. Your time is valuable. Use it wisely.
THE CASTLE COMPLEX
wikimedia commons
slon.pics
Krumlov Castle is an unusually large structure for a town of its size. In fact, it is the second-largest castle in the Czech Republic. The Castle complex has several noteworthy features including a majestic Baroque theater, an expansive rococo garden, and the extensive three-story Cloak Bridge that crosses over a deep gap in the rock upon which the Castle is built. The Castle also has a very unique moat — unique in that it is not filled with water, but with bears. Yes, that's correct — brown bears.
A tradition since the 16th century, the former rulers of the Castle aspired to identify with the powerful Orsini family, a Renaissance-era family from Rome who claimed they were descendants of Julius Caesar. Orsini is derived from the Italian word orso or bear. As such, bears have been a mainstay at the Castle for hundreds of years. In recent years, there has been rethinking along ethical lines concerning the bears continued captivity in the moat. Perhaps it is time to change this tradition?
PRO TIP 1. Two great resources to help you get more out of your visit are the Interactive Map of Cesky Krumlov and the Castle Complex.

PRO TIP 2. The Castle Complex is worth the price of admission, especially to experience the Baroque Theater (which is one of two remaining intact Baroque period theaters in Europe). The Castle's botanical gardens are both peaceful and gorgeous. The Cloak Bridge was enigmatic and the views from the Bridge were unforgettable.

PRO TIP 3. The Cesky Krumlov Revolving Theater (an open-air theater housed in the Castle gardens) is a unique venue to experience a play or opera. If you happen to be in town during the summer, try to get a ticket to one of the theater's performances.
CLOAK BRIDGE
pixabay.com
Looking at the Castle, you are instantly struck by the three story Cloak Bridge that crosses over a crag in the cliff face. This impressive bridge is treat to walk across in the evening and early morning hours and provides a majestic view of the Old Town. Sunset is particularly spectacular here.
PRO TIP 4 — VERY IMPORTANT. Grab your camera and find a good spot to take photos of the Old Town at sunset. It can get crowded in the evening.
BAROQUE THEATER
Perhaps the most unique attribute of the Cesky Krumlov Castle complex is its Baroque Theater, completed in 1682 under the stewardship of the Eggenbergs. The Baroque Theater is one of the best-preserved in Europe (the other theater is in Drottningholm, Sweden near Stockholm) and still retains its original stage machinery, orchestra pit, scenery, costumes, and props. Unique for its time, machines were used during performances to simulate horrifying winds, driving rainstorms, and menacing thunder.
Due to its age, the theater is only used three times per year. Today, visitors can take a guided tour beneath the stage to catch a glimpse of the wood-and-rope apparatus that allowed stage settings to be switched in and out at the same time the audience's attention was diverted with fireworks and smoke.
PRO TIP 5. You can only visit the Baroque theater with the purchase of a Castle Complex ticket. To get a tour of this amazing Baroque theater, check well in advance for availability. If you are really lucky, the theater has live performances 4-5 times per year.
BAROQUE CASTLE GARDENS
castle.ckrumlov.cz
The Baroque Castle Gardens can be found in the Castle Complex. Created in the 17th century, the gardens are the largest part of the entire Castle Complex.
PRO TIP 6. Touring the Baroque Castle Gardens is FREE and makes for a nice ending to enjoyable day. Access the Gardens via a foot path on back side of the Castle (near the Tour Bus parking lot).
THE LATRÁN OLD QUARTER
At the base of the Castle is Latrán, the Old Quarter. Latrán is the name of the main street and refers to the district that contained colorful houses that were originally occupied by people who worked in the castle. These houses eventually became the shops, bars, and restaurants that we see today.
Today, Latrán is a maze of quaint cobblestone streets containing medieval burgher homes, cafes and restaurants. Exploring this part of Cesky Krumlov is a pure joy. Every side street has something surprising to greet you. Wander to your heart's content. Exploring the in Latrán the evening is one of our favorite things to do in Cesky Krumlov.
BUDĚJOVICKÁ (BUDWEISER) GATE
slon.pics
Completed in 1602, Cesky Krumlov's last remaining town gate is the Budějovická (or Budweiser) Gate located at Latrán no. 104. At one time, nine gates made up Cesky Krumlov's fortifications. Eight of the gates were gradually pulled down during the 19th century. The Budějovická Gate had daring architecture and Renaissance flair and as such was preserved. Of note, the Budějovická Gate has two completely different expressions on its two façades — a sundial and welcoming red ornate decor face inward towards the town and battlements face outward as a visual deterrent to the town's enemies.
THE OLD TOWN
pixabay.com
At the heart of the Old Town is the main square, lined with a mix of Renaissance and Baroque homes of burghers (all built on 12th-century Gothic foundations). Walking around the Old Town in the evening is just one of our many favorite things to do in Cesky Krumlov.
PRO TIP 7 — VERY IMPORTANT. Exploring the Old Town is a joy. Get off of the main Street. Make sure you save enough time to explore the Latrán (Old Quarter).
THE EGON SCHIELE HOUSE + STUDIO
GoogleMaps 2022
The most notable residence in the Old Town belonged to controversial secessionist artist Egon Schiele who worked from his art studio in Cesky Krumlov from 1907-1917 (Schiele's mother was from Krumlov). Schiele's studio still exists at Plešivec no. 343 along the Vlatava River. Schiele was born in 1890 in the town of Tulln, Austria. In 1918, Schiele succumbed to the Spanish influenza at the age of 28.
PRO TIP 8. Many visitors to Cesky Krumlov confuse Scheile's house and studio with the Art Center. If you are interested in really going off the beaten path, then CLICK HERE for directions to Egon Schiele's Home and Studio.
THE EGON SCHIELE ART CENTER
wikimedia commons
Today, several of Schiele's 250 paintings and 2,000 drawings are on display at the Egon Schiele Art Center located at Široká no. 71 in the Old Town. CLICK HERE for directions to the Egon Schiele Art Center.
The Art Center enter was established in 1993 in a 16th century building complex that once housed the city brewery. In addition to Schiele's works, the Art Center also showcases the work of up and coming artists. There is a cafe and gift shop as well.
LEKARNA PHARMACY
wikimedia commons
Another unique relic of the town, the Lékárna Pharmacy, with its fine red Baroque facade, has been in operation since 1620. Step inside and see what a 400 year old preserved pharmacy looked like.
FREE SELF-GUIDED WALKING TOURS
PRO TIP 9 — VERY IMPORTANT. Enjoy walking, history, and exploring? This is the most amazing information we have stumbled upon. There are eight FREE Self-Guided Walking Tours to explore. Download the information and off you go. CLICK HERE to learn more about the walks to download.
RAFTING ON THE VLTAVA RIVER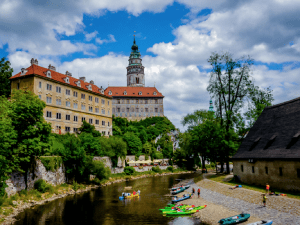 Connecting Prague to Cesky Krumlov is the Vltava River. For those with a sense of adventure, another unique way to explore Cesky Krumlov and the region is to take a float trip down the Vltava. Rafts and canoes can be rented through the Vory Malecek Rafting Company who have been floating customers down the Vltava since 1992. CLICK HERE for Directions to the Ticket Office.
Rafting options include everything from 30 minutes (through historical Cesky Krumlov) to 10 hours (from Vyšší Brod – Cesky Krumlov) and everything in between. For the history buffs in your group, there is even a historical sightseeing cruise aboard an early century wooden raft.
PRO TIP 10. An added cultural benefit, rafters can stop to grab cold libations at camp sites along the river. There are also "drink barges" anchored in the middle of the Vltava. Lastly, wherever there is a drop in the river's elevation, there is a slide built into the dam. Rafting down these slides is immense fun. Naturally, all rafting trips disembark at the Krumlov Brewery in the city center.
OUR EXPERIENCE AND OTHER FASCINATING THINGS TO DO IN CESKY KRUMLOV
wikimedia commons
We love Cesky Krumlov so much that we have visited several times. It is truly a joy to explore. Our game plan is always simple — start at one side of the town and walk to the other — taking in as many cobblestone streets, alleyways, baroque buildings, and gorgeous views as we can. A crown jewel among UNESCO World Heritage Sites, Cesky Krumlov is the perfect place to get lost. This highly photographable city has amazing architecture at every turn.
If you are a lover of art, then a visit to the Egon Schiele Art Center is a must. The exhibit is informative and provides insights into Schiele's brief unusual life. There are also numerous pieces of art on display created by Schiele. As Krumlov hosted Schiele's art studio for ten years, a walk around the Old Town provides a firsthand opportunity to walk in his footsteps and observe the sights and sounds that directly influenced him.
While roaming around the Old Town with our friends, we found ourselves talking to an older gentleman named John who grew up in Cesky Krumlov. Over a pilsner in one of the town's many cafes, he told us all about the Russian occupation including how he almost was run over by a tank in the town square. Take a risk and engage the locals, people are generally very proud of their town and its history. This type of experience is often what makes your travel experience unique.
After several hours, we made our way to the Lazebnický Most or Barber Bridge that crosses over the Vltava River and connects the Old Town to the Latrán. Halfway across the bridge, we stopped and took a 360-degree glance at the world around us. There are always local musicians playing traditional music and it is an excellent place to enjoy your coffee or a light snack. We crossed the bridge, continued to Latrán and toward the Castle. The Baroque and Renaissance-era buildings at the base of the Castle were exquisite and their facades were equally as impressive. We took a leisurely stroll through this area absorbing all of the fine century's old craftsmanship.
Cesky Krumlov is blessed with history, beauty, and good restaurants and cafes. For lunch, we dined at Nonna Gina, a quaint Italian trattoria with simple fare hailing from northern Italy. Nonna Gina is located on a side street a few blocks away from the Barber Bridge in the Old Town.
We enjoyed a wonderful dinner at Papa's Living Restaurant — a charming restaurant tucked away in an alley behind a solitary nondescript wooden door.
In need of dessert after dinner, we enjoyed a Trdelnik, a sweet traditional Czech pastry that is essentially a tube of grilled dough topped with sugar or cinnamon. In our case, our Trdelniks were a modern distant cousin and contained ice cream. All I can say is yum!
We saved the best for last — as the sun was setting, we used our last ounces of energy to make our way uphill through Latrán and entered into the Castle complex. After several family photos, we finally reached our ultimate destination — the Cloak Bridge. After spending a day in Cesky Krumlov, one quickly takes ownership of this place, draws a connection, and makes it their own. Catching the last glimpse of day, we watched the sunset over the red roofs of the Old Town and wondered what tomorrow would bring.
MASS TOURISM
Mass tourism has certainly found its way to Prague, Dubrovnik, Venice and other amazing cultural sites. It has made its way to Cesky Krumlov as well. Until COVID, two million visitors per year visited this town of 14,000.
Be a responsible and respectful visitor. People live in this town and rely on us to earn a living. When you can, spend your money at Mom and Pop restaurants and cafes. Visit the museums, parks and other historical and cultural attractions that make Cesky Krumlov great. Explore the regions around this magnificent town. Here is a great article on the current state of tourism in Cesky Krumlov. It is worth a read.
CLICK HERE to read Crowded Out – Cesky Krumlov: Mass Tourism In A Small Town (A Czech Winter's Journey: Part Thirteen)
PRO TIPS WHEN VISITING CESKY KRUMLOV
Here are some other PRO TIPS to help make your visit enjoyable so you can see and do the things you want in Cesky Krumlov with the most ease.
PRO TIP 11. In our humble opinion, Český Krumlov is best visited in the offseason or during the week. To really enjoy the town without the larger tourist groups, plan to explore during the morning (before 9:00 a.m.) or in the evening (after 6:00 p.m.) As a rule of thumb, Fall or Winter visits are best for visiting.

PRO TIP 12. Cesky Krumlov is a family-friendly town and is easily navigable by foot. Be prepared to do some walking, so pace yourself. As a wealth of culture awaits at every turn, be sure to have your camera ready.

PRO TIP 13. Parking a car can be challenging unless you plan ahead and do a bit of reconnaissance work. As a rule of thumb, wherever you find cobblestone streets, there is no parking. That said, you can find some on-street parking on the southern outskirts of the city. Conversely, there is ample public parking a large lot just north of the Castle complex at the bottom of the hill.

PRO TIP 14. The Cesky Krumlov Card offers admission to five sites: The Castle Museum and Tower, Cesky Krumlov Monasteries, the Regional Museum, The photographic studio of Josef and František Seidel, and the Egon Schiele Art Center. This might be worth purchasing if visiting for two or more days; otherwise, several of these attractions take away from other more valuable things you could be doing.

PRO TIP 15. Another fun fact, The Illusionist (2006) starring Edward Norton and Jessica Biel was filmed in Cesky Krumlov.
NEAR THIS PLACE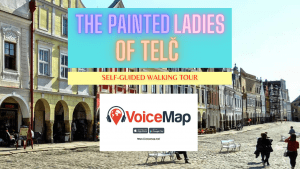 VOICEMAP | TELC SELF GUIDED WALKING TOUR. Experience the pretty town of Telč with its spectacular medieval square, baroque-renaissance architecture, and vibrant history. The Painted Ladies of Telč are among the many wondrous features of this UNESCO designated fairytale town that really has it all.
MEMORIAL OF THE IRON CURTAIN. The Memorial of the Iron Curtain in Cizov — where East once met West at this preserved section of fencing along the Cold War border.
PIVOVAR EGGENBERG BREWERY. What is a visit to Cesky Krumlov without a tasty ice-cold Pilsner? Alas, Cesky Krumlov is home to the Pivovar Eggenberg Brewery and restaurant — pivo being the Czech word for beer. True fact — brewing in Cesky Krumlov dates back to 1336! The House of Rosenberg acquired a neighboring brewery in 1522 and relocated it to its current location in 1630. The Pivovar Eggenberg Brewery has been in operation ever since.
RAFTING ON THE VLTAVA RIVER. A unique way to experience Cesky Krumlov is rafting on the Vltava River. Rafts and canoes can be rented through the Vory Malecek Rafting Company who have been floating customers down the Vltava since 1992. Rafting options include everything from 30 minutes (through historical Cesky Krumlov) to 10 hours (from Vyšší Brod – Cesky Krumlov). Stop and enjoy a cold refreshing pilsner at one of the pubs along the river.
VITKUV HRADEK CASTLE. Described as "Winter Romance," this 13th century castle is 45 minutes drive from Cesky Krumlov (towards Austria). Hike to this castle, the highest in Bohemia (at 1053 meters above sea level). In winter, it is open on weekends only. On a clear day, enjoy beautiful views of Lipno lake and the Alps in Austria.
BEST PLACES TO STAY
HOTEL BELLEVUE. The most elegant hotel in Cesky Krumlov, if not the entire region. Tucked away on a quiet back street near the Budweiser Gate. Hotel Bellevue has a luxurious restaurant on-premises called Le Jardin serving Czech and French cuisine. ADDRESS: Latrán 77, 381 01 Cesky Krumlov, Czechia
APARTMAN ATELIER PARAL. Eclectic boutique hotel within minutes from v Krumlov Castle. Great vibe and atmosphere. ADDRESS: Na Fortně 182, Český Krumlov, 381 01, Czech Republic
PENSION KRISTIAN. Steps away from Cesky Krumlov Castle, modern rooms contemporary rooms with FREE Wifi. Clean and close to everything. ADDRESS: Masná, Cesky Krumlov, 381 01, Czech Republic
CASTLE VIEW APARTMENTS. In the heart of the action right off the main town square of Cesky Krumlov. Clean rooms with comfortable beds and FREE Wifi. ADDRESS: Satlavska 140, Cesky Krumlov, 381 01, Czech Republic.
KRUMLOVSKÁ POHÁDKA. Steps away from Cesky Krumlov Castle, this hotel features light and airy rooms with a cool modernist vibe. FREE Wifi and family rooms available. ADDRESS: Široká 74, Cesky Krumlov, 381 01, Czech Republic.
PENSION U HADA. Located in an early 16th-century building on the banks of the Vltava River. 2-minute walk across the bridge to the main town square of Cesky Krumlov. Large loft conversion is great for families. Spacious rooms with FREE Wifi. ADDRESS: Rybářská 37, Cesky Krumlov, 381 01, Czech Republic
HOTEL RUZE. A former 16th-century monastery next to the main town square of Cesky Krumlov and on the banks of the Vltava River. Incredible architecture and well-appointed rooms. ADDRESS: Horni 154, Cesky Krumlov, 381 01, Czech Republic.
FILM + TV
RESOURCES
Cesky Krumlov UNESCO World Heritage Site
Cesky Krumlov Tourist Information Office
Maps of Cesky Krumlov and Southern Bohemia


Disclosure: White House Travel is a participant in the Amazon Services LLC Associates Program and Agoda affiliate programs, designed to provide a means for us to earn fees by linking to Amazon and affiliated sites at no extra cost to you.